Historic Soils
Located in the renowned Hillier limestone soils of Prince Edward County's famed wine terroir, our 58 acre waterfront farm was originally settled in 1863 by Captain Obedia Simpson. Its 'shipwreck stone' farmhouse was built from a cargo load of quarry stone that ran aground on the shifting beach sands at the end of our road. When M. Pettet owned the farm in 1878 the land began producing some of the finest malt barley and hops grown in America and later took the highest award at the American Centennial. Between 1860-1890 demand was so strong from American brewers that county farmers became wealthy merchants in a single harvest marking this era in county folklore as the booming 'Barley Days'. Sadly those days are gone but the great soils still remain which are revealed by our permaculture gardens, hopyard and barley fields. To protect these lands and soils, Fronterra is seeking organic certification set for completion in 2016.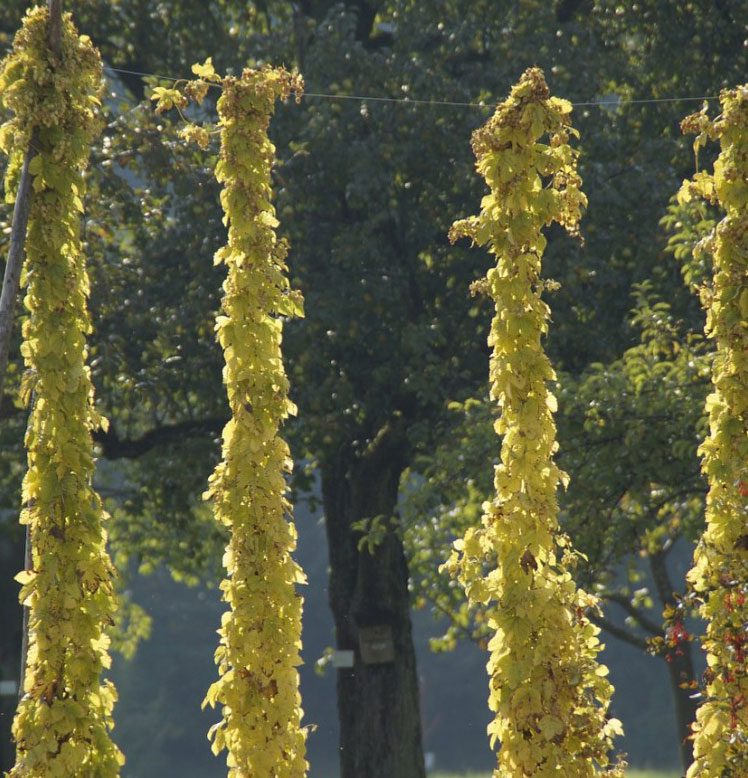 Beer Farm
Fronterra is helping usher in the renaissance of premium hops and barley production in Prince Edward County and reclaim our prestigious heritage. Our farm is set to produce all the hops and barley needed to create Fronterra's signature line of 'wet-hopped' aromatic beers for a true plough-to-pint experience. 'Wet-hopping' is a unique brewing technique where fresh, unkilned and unprocessed hops are added to the brew kettle rather than hop pellets or extracts which tend to lose some of their freshness and delicate aroma oils when they are processed, packed and shipped. With our brewery nestled in the middle of our hopyard, we have a great opportunity to create phenomenally aromatic beers that reveal the terroir of our land from a beer perspective.
Fronterra is also dedicating part of its pastureland to heirloom malt-barley production to revive the premium barley tradition that helped bring Prince Edward County to fame during the Barley Days period. Growing organic heirloom barley is no easy feat as these old strains must be perfectly planted to yield a crop. Fronterra, together with other regional farmers committed to re-establishing this noble grain, along with beer connoisseurs dedicated to real, local beer, have taken on this challenge to reconnect to our agricultural heritage and brew some truly historic beers.
Rebirth of Craft
We offer many opportunities to get your boots dirty and hands working in our skill-building farm-to-plate workshops. These workshops focus on sustainability, self-sufficiency and personal health with topics generally themed toward food production, preparation and preservation. Example topics include organic gardening, jamming, jarring, pickling, smoking and, of course, beer brewing. What better of a souvenir than jars of farm-made jam or your own smoked fish! In the future we plan to expand our workshops to include other topics ranging from soap making to photography to bushcraft. Specific workshops topics and dates will be posted on our Facebook page as they are dependent on the growing season and weather.