Our Farm Experiences
Located in the renowned Hillier limestone soils of Prince Edward County's famed wine terroir, our 58 acre waterfront farm was originally settled in 1863 by Captain Obedia Simpson. Its 'shipwreck stone' farmhouse was built from a cargo load of quarry stone that ran aground on the shifting beach sands at the end of our road.
We have a deep desire to share the beauty of our farm, flower fields and forests with our visitors to contribute to their reconnection with the natural world. For this we have designed a range of experiences for individuals seeking new adventures, families with children who want to learn about sustainable practices and nature, and groups looking for unique get-together activities. As we live on-site, we require reservations to access the farm. No-walk-in traffic is permitted at FRONTERRA for the security and safety of our camp guests, staff and owners.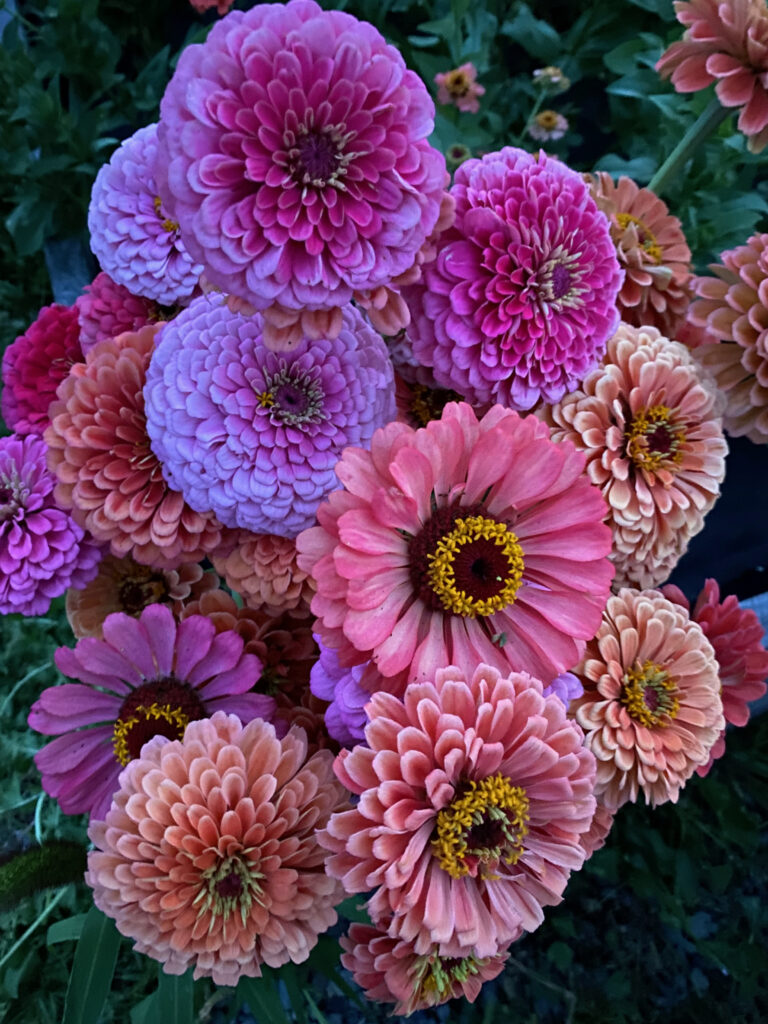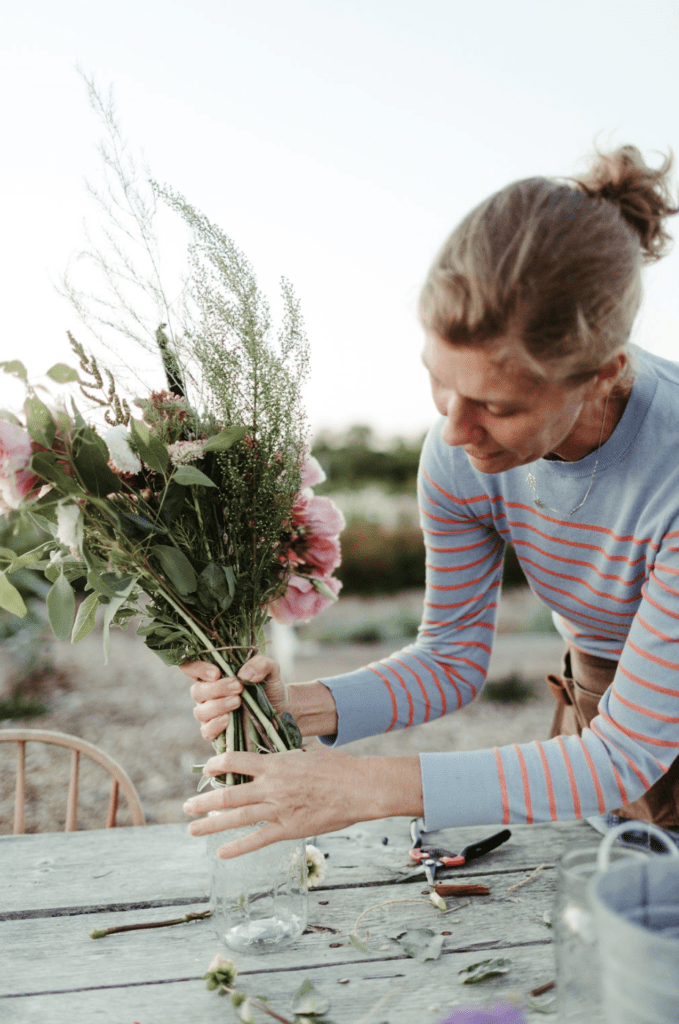 Cut-your-Own Flowers
Make a bouquet with a friend or for a friend or just for fun, relax and experience the enchanting power of flowers as your senses ignite and creativity inspires you. Visitors will discover a myriad of flower and foliage varieties as they explore the garden to pick and arrange their own bouquets of fresh blooms trying their hands at the delicate art of floral balance, color and texture. Each experience begins with a brief introduction to our flowers and how to cut and professionally arrange them. Visitors are welcome to wander through the flower fields, enjoy the views, take photos and relax amongst the serenity of the surroundings. Book your Cut-your-Own Experience now!
The experience includes:
1.5 hours of picking
A half acre of fresh, locally grown florals to pick from
Container to pick flowers with (rental)
Sanitized floral scissors (rental)
Paper to wrap the bouquet
Pricing:
$45 per person, includes approx. 20 stems
$10 for additional guests, children under 12 are free
Vintage mason jar and farm-vases available to purchase
Schedule & Flower Availability
Access to the farm on Saturdays, Sundays and Wednesday from 9:30-11:00 is by appointment only. Sometimes Mother Nature can be a little unpredictable and keep us on our toes so while we can't guarantee what blooms will be available on any given day, we can promise that every visit will be an adventure filled with wonder and surprise. Our Flower Farm is open from the beginning of July until first frost and we can't wait to share the beauty of nature with you!
Good to Know
Our cut-your-own flower experience is a delightful activity for all ages and children are more than welcome to participate but we kindly insist that children are supervised by adults at all times and do not handle the sharp scissors. We don't want any little ones running around with sharp scissors, climbing on fences or getting too wild with our plants. We carefully select our flower varieties to avoid any toxic ones but we also admit that every person's allergies are unique!
While in the fields, it can get quite hot so we recommend that visitors wear sunscreen and a sun hat. Additionally, we would like to remind visitors that there is no potable water available onsite so we suggest bringing plenty of drinks to keep hydrated. Outdoor composting bathroom are available onsite.
Unfortunately, due to the popularity of the cut-your-own flower experience, we are unable to provide refunds if your plans change. In the event of heavy rain or thunderstorms, we may need to temporarily suspend the activity to ensure the safety of our visitors and staff. We appreciate your understanding in these situations and will make every effort to reschedule your experience if possible, or to provide a full refund in such an event.
While we adore our furry friends, we have a strict no pet policy, with the exception of certified service dogs. We hope you understand and appreciate our commitment to ensuring the safety and comfort of all our visitors.
We strive to provide an inclusive experience for all guests, including those with special needs. Please don't hesitate to contact us to discuss any accommodations or accessibility needs you may have. We will do our best to assist you with your request.
Finally, we want to remind our visitors that our farm is a working farm that has uneven terrain and other potential hazards and we therefore highly recommend wearing appropriate closed toe, laced footwear while walking around the property. While we take great care to ensure the safety of our visitors, we are not responsible for any falls or injuries that may occur. Please take caution and enjoy the natural beauty of our farm safely.
Group Workshops
Looking for a fun and unique group activity? Look no further than our flower arranging workshop at our beautiful flower farm! Whether you're planning a team-building event or just looking for a fun outing with family and friends, our workshops provide the perfect opportunity for groups to come together and learn the art of flower arranging, surrounded by the stunning blooms of our heritage farm. Our farmer-florist will guide you through the process, teaching you great tips and techniques for creating beautiful and professional arrangements using locally grown flowers.
In this workshop, you will learn about the different types of flowers and foliage, colour theory, and how to create a balanced, visually appealing arrangement. With a focus on sustainability and eco-consciousness, we will teach you how to create stunning arrangements while reducing waste and promoting our ethical practices. Plus, by using locally grown flowers, you'll not only be supporting sustainable agriculture, but also creating a truly unique arrangement that reflects the beauty of your local environment.
The experience includes:
2 hours workshop
15 stems of flowers and foliage
Rustic vase
All the tools and sustainable floral supplies
Paper to wrap the arrangement
Pricing:
$75 per person, minimum group size of 6
Whether you are celebrating a special occasion or just looking for a fun and memorable way to spend time with loved ones, our flower arranging workshop is the perfect choice. So gather your group and join us for a moment of creativity, beauty, and fun at our flower farm. Reach out and get ready to unleash your inner artist!
Private Garden Party
At FRONTERRA Farm's flower fields, we love bringing people together to celebrate life's special moments. If you're planning an intimate gathering, our garden rental is the perfect place to create unforgettable memories. Nestled amidst the colourful blooms and lush greenery with the sun setting in the background, you'll enjoy the perfect setting for your special event. Whether you're planning a bridal/baby shower, family reunion, birthday party, life celebration or a corporate gathering, our inspiring gardens offer an unforgettable one-of-a-kind experience for your celebration.
While we believe that sharing a meal is a wonderful way to connect with each other and with nature, our garden rental is a self-catering option in that you will be responsible for arranging your own food and drinks. We encourage you to bring your favourite dishes and drinks to share with your guests or to contact a local caterer to make your gathering even more special. We will be happy to provide recommendations for local chefs and caterers who share our passion for quality and sustainability.
While at the farm, make your special event even more memorable with our Cut-Your-Own Flower Experience or Flower Arranging Workshop! Join us in the flower garden and select fresh blooms to create bouquets or arrangements tailored to your unique style and occasion. Our farmer-florist will guide you through the process and provide all the necessary tools and materials.
We believe that good food, beautiful blooms and good company are the perfect ingredients for a wonderful time! Contact us now and let us help make your event truly magical.
The experience includes:
3 hours of full private access to our gardens
Views of the flower fields and stunning sunset
Rustic-chic tables & seating for a maximum of 30 people
Fresh floral table centrepiece
Outdoor ecological bathroom
Covered outdoor space in case of rain
Pricing:
$400, group of up to 10 persons ($20 each additional person to a maximum of 40)
Pick-your-own bouquet experience or workshop available at additional costs
Full dinnerware rental at additional costs
Bonfire at additional cost
Farm Experience for Children
We strongly believe that the future of our planet lies in the hands of our children and the relationship they build with nature. That's why we are excited to offer a variety of fun and educational activities for kids to learn about nature and how to care for it. This August 2023, we will be hosting a day camp for children aged 5-10, where they will explore our farm, fields and forests and develop their relationship with the natural world and have a great time. Our objective for the day camp is to create a serene and inspiring atmosphere for a maximum cohort of 8 kids to ensure that each child receives personalized attention and care while safely exploring the wonders of nature.
Examples of activities during the day will include:
Seed planting and garden care: Children will learn about different plants and how to care for a garden by planting seeds, watering, and weeding.
Pollinator education: Children will learn about the importance of pollinators and their role in sustainable agriculture through interactive educational activities.
Nature scavenger hunt: Kids will search for different natural items such as flowers, leaves, and rocks while exploring the farm. Children will learn about different natural elements and develop their observation skills.
Forest storytelling: Children will hear stories about the forest or create stories that take place in the forest to engage their imaginations and spark their interest in nature.
Tree & flower identification: Children will learn to identify different trees and plants in the forest and the field using field guides and by observing their unique features. This activity will help kids appreciate the diversity of plant life.
Nature yoga: Yoga will be adapted to incorporate natural elements such as tree poses or animal poses, helping children connect their bodies with the natural world around them.
Our camp starts on Tuesday August 8th, 2023 and runs until Friday September 1st, 2023. Weekly, bi-weekly or monthly subscriptions are welcome. Daily registration for our camp guests can be arranged depending on availability but must be arranged prior to their visit. Please contact us [connect@FRONTERRA.ca] for further details on registration.
Flower Bar & Arrangements
Looking for a way to brighten up your home or office with beautiful, locally sourced flowers? Come visit the FRONTERRA Flower Bar and take home a piece of nature's beauty. Our flowers are sustainably grown using regenerative farming practices ensuring that you are getting quality blooms that are good for your health and for the environment. Every day during the summer months, our flower bar located on County Road 27 by the farmhouse will be restocked with freshly picked flowers and botanicals. Inspired from our delightful experience of European flower markets, the flower bar offers a fabulous display of blooms, letting you unleash your creativity to design your own bouquet or flower arrangement. This is a do-it-yourself experience for all flower lovers!
If you are looking for a unique and personalized touch to add to your special occasion, we also offer custom flower arrangements. Our arrangements are hand-crafted by our farmer-florist and are designed with the freshest flowers from our fields. To ensure that we provide the best service possible, we kindly ask that you place your order at least two days in advance and pick up your arrangement at the farm. We take great care in selecting the perfect flowers for your arrangement and strive to make every bouquet a unique piece of natural art. Thank you for choosing our farm for your flower needs. We can't wait to bring some joy and beauty to your day!

Rebirth of Craft
We offer many opportunities to get your boots dirty and hands working in our skill-building farm-to-plate workshops. These workshops focus on sustainability, self-sufficiency and personal health with topics generally themed toward food production, preparation and preservation. Example topics include organic gardening, jamming, jarring, pickling, smoking and, of course, beer brewing. What better of a souvenir than jars of farm-made jam or your own smoked fish! In the future we plan to expand our workshops to include other topics ranging from soap making to photography to bushcraft. Specific workshops topics and dates will be posted on our Facebook page as they are dependent on the growing season and weather.