Camp Experience
As founders of FRONTERRA, we literally travelled the World over to bring you an experience with a perfect mix of simplicity for the new camper and authenticity for camping purists looking for the more elemental and wild side of camping in Nature. From the Cape of Good Hope in South Africa to Cape Horn in Patagonia, which is the longest overland journey on the planet, we present to you the culmination of our travels: FRONTERRA Camp.
Protected behind a centuries-old field stone wall created in the late 1700's by the early pioneers, our camp consists of 10 private, off-grid sites placed spaciously 30m apart to maximize privacy while minimizing the camp's footprint in the forest ecosystem. Built around and sometimes into the natural features of this truly magical forest, each tent is themed according to an historical chapter starting from the 1700's Prospector to the 1980's Sanctuary, providing insight into how the Canadian Prospector tent was used throughout our exciting history of nation building.
As evidence of our commitment to minimizing our impact on the environment, each of our campsites are designed with sustainability at the forefront. From running a plastic free project and using only natural materials sourced locally for our tents and ropes, to running waterless composting toilets and powering the off-grid camp's systems using renewable energy, you can sleep well knowing that your patronage to FRONTERRA help supporting sustainable tourism. Our commitment to sustainability doesn't end at our site – we also encourage our guests to minimize their environmental impact by practicing eco-friendly habits learnt during their stay.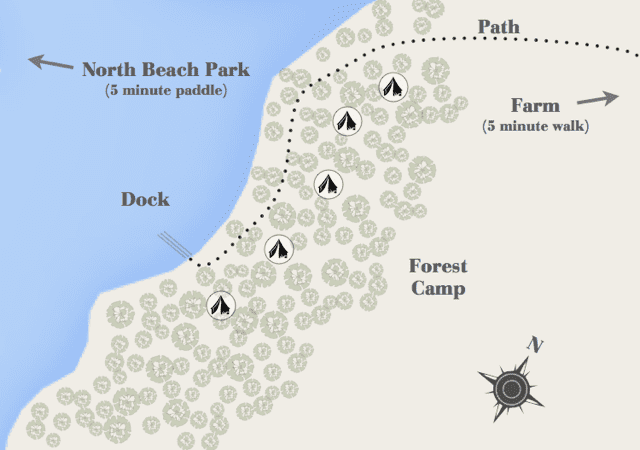 Camp Layout & Amenities
FRONTERRA Camp is designed to hide seamlessly in with the natural surroundings allowing you to immerse yourself in the beauty of our farm, fields and forests without leaving a trace or disrupting the natural landscape. Designed as a premium boutique camp with only 10 tent-suites placed spaciously apart to ensure your time with us is rejuvenating and enjoyable, each sites are located to protect sensitive habitat while maximizing the enjoyment of the most naturally beautiful and pristine natural environments.
Each tent-suite is situated to maximize your privacy while still keeping you close to our amenities. These amenities include a private board walk and dock with water access to the revered double sand beaches of North Beach Provincial Park just a 10 minute paddle across the lake and great bass and pike fishing in North Bay. Other amenities include a vegetable gardens to source great farm fresh veggies (available in season), our bespoke flower experience and our Farm Homestead resurrection of an 1860 log Cabin for basic camp provisions and local products.
It is important to note that to keep the camp quiet and visually pristine, we have off-set the camp from the overnight guest parking by a short 2 minute walk. We offer a private valet service to transport your gear to your tent-suite.

undefinedundefined
undefinedundefined
undefinedundefined
undefinedundefined
Our Custom Prospector Tents
FRONTERRA Camp allows you to fully experience the beauty of nature so you can enjoy every minute of your precious vacation time. Our spacious 100% cotton canvas prospector tents are an authentic tribute to the early prospecting days of our nation and are still used today to explore some of Canada's most wild places. Our custom designed prospector tents offer a unique and authentic camping experience that blends the very old with the very new meeting today's needs with a nod to the ingenuity of our ancestors.
Adorned with rustic decor, eco-furnishings and a dash of quirky funk, our tent suites provide a unique and welcoming atmosphere for your much needed vacation including a king-sized bed, hardwood floors, private outdoor hot shower, well-appointed summer kitchen and even a protected reading lounge in case of inclement weather. Each tent-suite is designed in its own rustic-chic style and offers large private living spaces with protected areas to keep nature's nuisances out while letting the gentle breeze and sunshine in. Immerse yourself in the beauty of nature while enjoying the comforts of home, all while celebrating Canada's rich history.
FRONTERRA Camp offers two unique experiences – our Forest camping tents nestled deep in our Sweetwater Forest, and a lakeside experience on the fen marsh built to observe the amazing wildlife that abounds in this delicate ecosystem – each with its own unique setting and charm.
Forest Tents
For families with kids or those who prefer a forest setting, our forest sites provide the perfect escape from hot summer days offering a cool and refreshing retreat into the lush greenery of the trees. Wake up to the sounds of birds chirping and the forest awakening to indulge in the peace and tranquility of the ancient rites of forest camping. Designed for couples and families, we offer plush cots for children to accommodate everyone comfortably. This way, parents and children can enjoy the same spacious and luxurious accommodations, with all the added benefits initiating their children to the great outdoors. After all, we must first get the children to fall in love with Nature before we ask them to protect it!
Best for: Families with children, cozy campfires, cooling shelter, spectacular displays of fireflies, family connections and celebrations.
Lakeside Tents
For those who prefer a lakeside retreat, our sustainable resource management sites on the Fen-marsh of North Bay offer the perfect escape to relax, enjoy jaw-dropping sunsets and perform low-impact sustainable conservation activities such as waterfowl, animals and bird watching. These locations, designed specifically to delicately float over the ecosystem and provide a comfortable and unparalleled opportunity to experience nature, are perched on the edge of our Sweetwater forest offering a breathtaking experience as the dusk and dawn migrations of gorgeous and unique waterfowl glide effortless overhead.
The lakeside sites are for those who love the sun and don't mind the nautical sounds of wind in the canvas and the serenade of a chorus of frogs at night. Relax on your private view platform and enjoy the unique ecosystem of the marsh and discover a myriad of birds and wildlife from the comfort of your own private oasis.
Best for: wildlife appreciation, spectacular sunsets, couple event/proposals/anniversaries and privacy
Amenities Included
No matter which location you choose, you can expect the same high-quality amenities including luxurious king-size Canadian-made ecological mattresses, premium bedding (quality linen and duvets included for both the bed and the cots), private outdoor hot shower (with plush towels, ecological body wash and shampoo), a clean, simple and private composting toilet, and a fully-equipped kitchens (with a propane stove, cast iron cookware, cooking utensils, tableware & cooler). Our on-site store carries bags of ice that can be purchased for a nominal fee to ensure your perishables keep cool throughout your stay while our pantry boxes store your food from even the most cunning of forest creatures.
Each of our campsites are also equipped with a private outdoor fire pit and cooking grill, perfect for gathering around with friends and family to enjoy the beauty of the great outdoors. To ensure the safety of our guests and the preservation of our natural environment, we kindly ask that guests do not bring their own firewood. Instead, our Camp Ranger will provide guests with high-quality firewood for purchase. This wood has been sourced locally and is guaranteed to provide a safe and enjoyable experience.
We are committed to providing our guests with safe and clean drinking water during their stay at our camp. Our water source is regularly tested to ensure its potability and we take pride in providing high-quality water sourced using renewable solar energy for our guests to enjoy. This is done in part to reduce waste and promote sustainability by limiting the use of plastic water bottles during your stay. Our potable water is safe for drinking and suitable for refilling reusable water bottles. This small step makes a significant difference in reducing the environmental footprint of our camp.
FRONTERRA Camp is designed to be a place to disconnect and unwind from the hustle of daily life. As such, we are proud to offer our guests a transformative camping experience with no access to electricity or wifi although we do provide solar powered lanterns and charge packs while cellular reception for all major networks is generally 3 bars or higher. Turn it off, disconnect and celebrate the beauty of nature and the peacefulness of the great outdoors. Leave your screens behind and let the stars be your entertainment – the only thing you truly should recharge at FRONTERRA is your soul!
What to Expect & Bring
At FRONTERRA, we continually strive to provide an evermore luxurious and transformative experience that truly allow guests to let go and reconnect with nature. It is important to remember that luxury camping (or glamping) is still a camping experience and not a rustic hotel and, as such, guests should be prepared for being outdoors. To ensure you have a comfortable and enjoyable stay, we recommend bringing a few key items:
Appropriate clothing for the weather, including rain gear and extra layers/warm sleepwear for cooler evenings if you are arriving in the shoulder season.
Spray or mosquito repellent and/or bug coils (citronella candles are good only for ambience, not bugs) as every dusk and dawn can bring mosquito "witching hour".
While we provide battery-powered lanterns to illuminate your tent and surrounding areas, we highly recommend bringing a handsfree headlamp or flashlight to ensure you can easily navigate your way around the camp after dark.
Our oversized, extra plush room towels prefer to stay cozy and dry indoors so please pack a beach towel and chairs as North Beach Provincial Park with its Caribbean blue waters and double sandbar are not to be missed.
Sunscreen, and a hat are also essential as the sun can easily drain you of your vacation's energy.
Lastly, don't forget to bring a sense of adventure and an open mind – you never know what kind of natural wonders and surprises you might encounter during your camping experience!
Inclement weather, nocturnal visitors and bugs, both bad and good ones like fireflies, are all part of the camp experience. While we have taken many steps to minimize these disturbances and provide you with a truly luxurious experience, these elements are a natural part of the environment and add to the adventure of the great outdoors.
Signature Botanical Experiences
Experience the unique and energizing beauty of our farm-grown flowers and botanicals with our signature Botanical experiences available exclusively to our camp guests. Wander for free through our cut-your-own gardens or order a carefully crafted selection of botanical products that showcase the natural beauty and therapeutic benefits of our farm-grown blooms, bringing the essence of our farm directly to you. Each product and experience features our farm-grown flowers and botanicals providing a one-of-a-kind sensory experience that is both relaxing and rejuvenating. Simply add them to your stay when you reserve or request them later to our Camp Ranger to discover the power of natural beauty and serenity.
Private Spa Experience
Indulge in the ultimate outdoor relaxation with our new private spa experience! From the convenience and privacy of your own camp, we offer you a luxurious botanical ritual to enjoy an assortment of incenses, soap, scrubs and lotions featuring botanicals harvested from our farm to bring you closer to nature in a truly original spa experience. Our spa kit include step-by-step instructions for a self-guided spa experience that will leave you feeling invigorated, relaxed and balanced. Treat yourself to a body scrub with our invigorating botanical salt blends, improve your blood circulation with our bouquet whisk of aromatic plants and herbs to then nourish your body with our plant-based, bug defying creams and lotions. Whether you're looking for a meditative solo spa experience or an intimate moment to share with a loved one, our spa kit is the perfect addition to your luxury camping getaway.
$70 (can be used for two people bucket is purchasable for $75 extra) (Botanical whisk, salt scrub, mud mask, incense, farm-crafted soap/shampoo, herbal hydration tisane, instruction card)
Pick-your-Own Bouquet
Take your luxury camping experience to the next level with FRONTERRA Farm's Pick-Your-Own Flower experience. Get up close and personal with our stunning farm-grown flower fields and raised gardens as you handpick your own bouquet to create a truly unique and unforgettable keepsake. Exclusive to our guests, our flexible scheduling system allows you to attend the pick-your-own flower experience at a time that suits you, arranged with our Camp Ranger who can guide you through the process and help you select the perfect blooms for your bouquet.
For those who prefer a more relaxed experience, our farm is open to all our guests free of charge, providing an ideal location for a leisurely self-guided stroll through the flower fields, taking stunning pictures of the sunset, and enjoying the tranquility of the natural surroundings. Whether you're a nature lover, a photography enthusiast, or simply looking for a unique and memorable experience, our pick-your-own flower add-on is the perfect way to enhance your camping adventure.
$45 per pick-your-own bouquet experience, free access to the flower field.
Click here for more details
Flower Arrangement
Make your luxury camping experience even more special by adding a splash of floral colour to your accommodations! Our on-site flower farm offers a dizzying variety of fresh and locally grown flowers, perfect for adding a touch of class and elegance to your precious vacation. Simply select the bouquet add-on when reserving your stay and our staff will stage the stunning arrangement for you arrival. Whether you're celebrating a special occasion or simply want to add a blast of charm to your stay, a flower bouquet is the perfect addition to make the extraordinary even more so.
$75 (Includes approx. 20 stems and a vase to bring your flowers home)
Flower Explosion
For those who want to impress, make your special moment truly unforgettable with our Flower Explosion service. Whether you're planning a romantic proposal, making a special life announcement or just want to create a moment that you and your loved ones will never forget, our Flower Explosion service will transform your space into a botanical wonderland that will take your breath away!
Our Flower Explosion service comprises a range of beautiful floral arrangements including a stunning table centrepiece as well as five smaller bouquets to decorate the outdoor space. Farm grown flower petal trails and bed adornment with a spectacular bedside bouquet take luxury camping to a whole new level of beauty. We use only the freshest and most beautiful flowers, harvested directly from our farm, to create this ambiance of romance and enchantment which never fails to wow. Don't forget to select your Flower Explosion when you reserve to try the unexpected and experience the beauty and wonder of our farm-grown flowers.
$350
Activities Around the Farm
In addition to our Farm Experience and the magnificent North Beach Provincial Park fronting on both North Bay and Lake Ontario just a few minutes walk or paddle away, FRONTERRA is ideally situated to explore Prince Edward County either by bike, boat or foot. With more than 30 vineyards, breweries or cider houses located within a short 10km ride or walk from the farm, having a bike or a good set of walking shoes is a must. The picturesque village of Wellington is just a 15 minute drive away for any town-based convenience you may need such a grocery stores, farmers markets, pharmacies, restaurants and bars.
FRONTERRA also offers canoe and bike rentals for our clients (limited availability, please add these items to your online reservation).
Access to North Beach Provincial Park
FRONTERRA is conveniently located 900m away from the spectacular North Beach Provincial Park, one of the most stunning and picturesque beach destinations in all of Ontario. With over 2 km of sandy beach, crystal-clear waters and breathtaking sunset views, the park is the perfect place to relax, unwind and explore the beaches that made Prince Edward County famous. From the farm, the park can be accessed by foot, bike, car or boat. Please note that reservations are required to access the Park. We recommend guests to book in advance to ensure availability directly on the website of Ontario Parks [https://reservations.ontarioparks.com/]. Please note that if you access the park by boat, you do not need a reservation.
Millennium Trail & Wine Tour
Departing from FRONTERRA, the Millennium Trail can easily be reached. This stunning trail not only offers breathtaking views of the local countryside, it also connects visitors to some of the region's top attractions, including vineyards, breweries, restaurants and charming local communities such as Wellington. Discover the unique flavours and culture of our region as you meander along this picturesque trail, with opportunities to stop and indulge in some of the best food and drink the area has to offer. Whether you're looking for a leisurely stroll or an adventure-filled day out, the 50 km Millennium Trail [https://www.visitthecounty.com/business_listings/millennium-trail/] offers endless possibilities for exploration and discovery.
Villages of Consecon & Wellington
Consecon is the closest village to the farm at just a 4-minute drive away. While the village may be small, it boasts a charming wine bar, a great coffee shop and a convenient store that sells a limited selection of beer and wine among more basic items. You can also shop online and pick up you finds at the Merchant's Mill, a unique venue dedicated to supporting local artists and artisans, showcasing their work and providing a platform for them to connect with the community. Click here to visit the online store [https://www.tmmgifts.ca/].
Approximately 15 minutes from FRONTERRA by car, the village of Wellington offers a wide variety of great restaurants, charming boutiques, and local amenities like grocery stores and farmers markets (on Saturdays in the Summer). One of our favourite stop for delicious Italian inspired pastries and coffees is Piccolina Mercato & Bar [https://www.enidgrace.com/piccolina]. For families with children, Wellington offers an amazing park that is perfect for playtime and relaxation as parents sip their premium coffees. And if you're looking for a place to picnic with a magnificent view of Lake Ontario, you won't find a better spot than Wellington Park, unless you are at North Beach, or at a winery, or on the windswept shores of South Beach, or…
Day Camp for Children in August
Looking for a fun and educational experience for your kids while you enjoy some well deserved peaceful time to yourself? Look no further than Fronterra Day Camp for kids filled with cool activities at the farm! Held during the month of August, our Day Camp is designed to connect children aged 5-10 with the natural world and inspire them to fall in love with Nature and the environment Our experienced and enthusiastic Educator will lead your kids in a variety of activities, from exploring the flower fields and learning about sustainable farming practices, to fun crafts and games while you can relax and enjoy some much-needed downtime. For more information, consult the Farm Activities for Children section of our website.
Corporate & Group Retreats
Looking for a unique and memorable venue for your next corporate event or the perfect venue to host your next wellness or creative retreat?
Nestled in the heart of our peaceful countryside and two steps away from a magnificent beach, our farm offers the perfect setting for your team to recharge, connect and collaborate. Our luxury camping tents provide a comfortable and stylish accommodation option allowing groups to enjoy something different yet accessible even for those new to the great outdoors. Our spacious and comfortable prospector tent can comfortably host groups of up to 20 people, and we are happy to work with you to customize your retreat to meet your specific needs and preferences.
Since we grow all of our own flowers and botanicals right here on the farm, we can offer a truly unique and immersive experience for your group. Our team can lead a variety of workshops including flower arranging, botanicals, gardening and more, giving your group the opportunity to learn new skills, unwind and tap into their creative side.
Whether you're looking to bond with your team, brainstorm for new ideas, or simply relax and celebrate, we can help you create the perfect itinerary. Whether it is team-building activities, group meals and even special events like cocktail parties or fireside chats and musical performances, we can make your outing a resounding success.
With our commitment to sustainability and solution-oriented approaches, you can rest assured that your retreat at FRONTERRA will have a positive impact on both your team and the environment. Contact us today [connect@FRONTERRA.ca] to learn more about our corporate and group retreat options and start planning your unforgettable experience at our flower farm.
Reserve