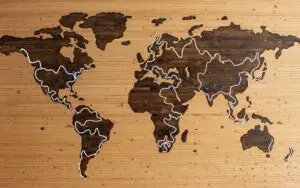 As founders of FRONTERRA, we literally travelled the World over to bring you an experience with a balanced mix of approachability for the camping newcomer and authenticity for camping purists looking for the more elemental and wild side of camping in Nature.  Our decade long journey from the Cape of Good Hope, South Africa to Cape Horn Patagonia, the longest overland journey on the planet, we present to you the culmination of our travels: FRONTERRA Luxury Camp.
Protected behind a centuries-old field stone wall created in the late 1700's by the early pioneers, our luxury camp consists of 10 private, off-grid sites placed spaciously 30m apart to maximize privacy while minimizing the camp's footprint in the forest ecosystem.  Built around and sometimes into the natural features of this truly magical forest, each tent is themed according to an historical chapter starting from the 1700's Prospector to the 1980's Sanctuary, providing insight into how the Canadian Prospector tent was used throughout our exciting history of nation building.
As evidence of our commitment to minimizing our impact on the environment, each of our campsites are designed with sustainability at the forefront.  From running a  plastic free project and using only natural materials sourced locally for our tents and ropes, to running waterless composting toilets and powering the off-grid camp's systems using renewable energy, you can sleep well knowing that your patronage to FRONTERRA help supporting sustainable tourism. Our commitment to sustainability doesn't end at our site – we also encourage our guests to minimize their environmental impact by practicing eco-friendly habits learnt during their stay.
Camp Layout & Amenities
FRONTERRA Luxury Camp is designed to hide seamlessly in with the natural surroundings allowing you to immerse yourself in the beauty of our farm, fields and forests without leaving a trace or disrupting the natural landscape.  Designed as a premium boutique camp with only 10 tent-suites placed spaciously apart to ensure your time with us is rejuvenating and enjoyable, each sites are located to protect sensitive habitat while maximizing the enjoyment of the most naturally beautiful and pristine natural environments.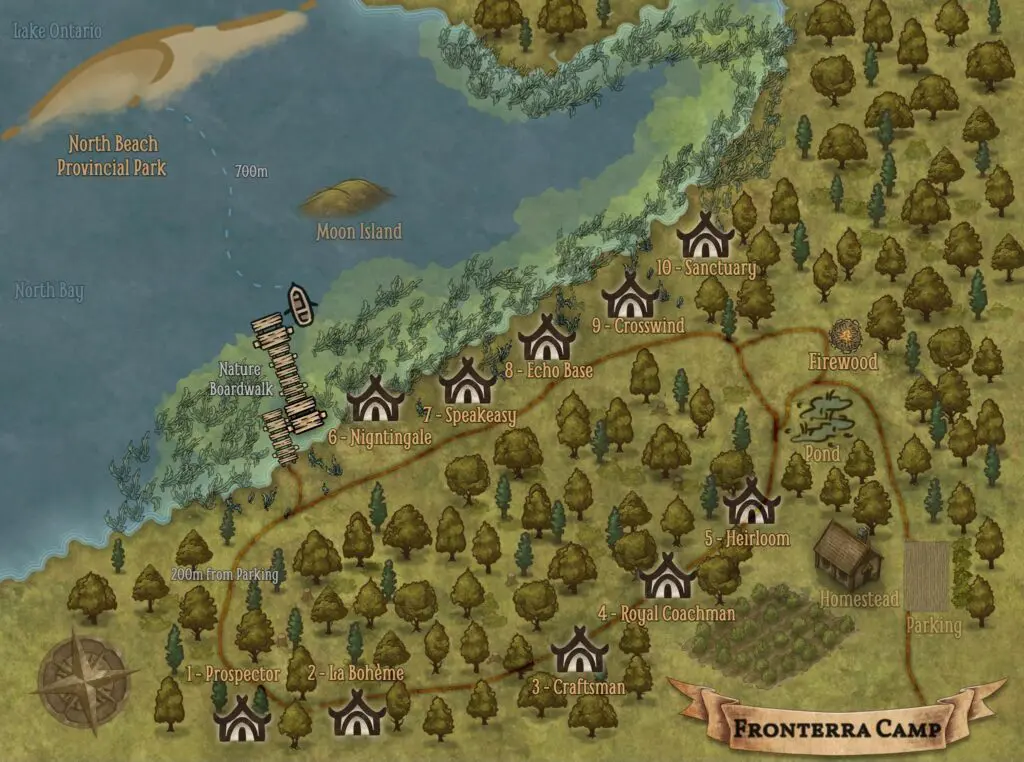 Each tent-suite is situated to maximize your privacy while still keeping you close to our amenities. These amenities include a private board walk and dock with water access to the revered double sand beaches of North Beach Provincial Park just a 10 minute paddle across the lake and great bass and pike fishing in North Bay.  Other amenities include a vegetable gardens to source great farm fresh veggies (available in season), our bespoke flower experience and our Farm Homestead resurrection of an 1860 log Cabin for basic camp provisions and local products.
It is important to note that to keep the camp quiet and visually pristine, we have off-set the camp from the overnight guest parking by a short 2 minute walk. We offer a private valet service to transport your gear to your tent-suite.